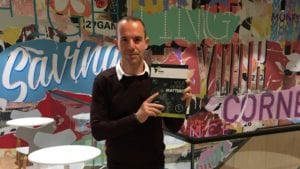 After a long campaign financial education became part of the National Curriculum in 2014, yet to date there has been no financial education textbook to help teachers and pupils get to grips with this crucial new subject. Today two of the leaders of that campaign have teamed together to publish 'Your Money Matters', the first ever curriculum-mapped financial education textbook which will be sent for free to senior schools. Written by the financial education charity Young Money, with guidance by Martin Lewis, the Money Saving Expert, who's £325,000 personal donation funded the project.
The textbook, which is aimed at ages 15 to 16, has received the support of the Government. All 3,400 state-funded schools in England will receive 100 free copies of the 150-page textbook, typically enough for 1 textbook per two pupils, as well as copies of a linked teacher's guide. A PDF of the textbook is also available for free for anyone who wants to download it at www.young-money.org.uk/textbook
What is in the textbook? Financial education is currently primarily split across the Maths and Citizenship curriculums, as well as within the non-statutory element of PSHE. Your Money Matters is aimed at helping secondary school students make informed choices about managing their money now and in the future, within that curriculum. The educational textbook contains facts and information as well as interactive activities and questions for the students to apply their knowledge. The chapters are as follows 1. Savings – ways to save, interest, money and mental health 2. Making the most of your money – budgeting, keeping track of your budget, ways to pay, value for money, spending) 3. Borrowing – debt, APR, borrowing products, unmanageable debt. 4. After school, the world of work – student finance, apprenticeships, earnings, tax, pensions, benefits. 5. Risk and reward – investments, gambling, insurance. 6. Security and fraud – identify theft, online fraud, money mules.
Why do we need a textbook? The textbook is important for teaching young adults how to manage their money at a time when young people are facing an increasing number of complex financial decisions. It responds to the findings identified in the report 'Financial Education: Two Years On – Job Done?' by the APPG on Financial Education for Young People, which pointed to an urgent need for resources and support for teachers and students.
Martin Lewis comments:
"I passionately believe that financial education could have a huge impact on the future wellbeing of millions of young people. When we got financial education on the national curriculum in 2014, we celebrated thinking the job was done. We were wrong. Schools have struggled with resources and there's been little teacher's training. Something else was needed to make it easy for schools and teachers." "I still wrestle with whether it's right that a private individual should fund this. Yet nothing else was forthcoming, and pragmatics outweigh principles. We live in one of the world's most competitive consumer economies, with companies spending billions on advertising, marketing and teaching their staff to sell, yet we don't get any buyer's training. That needs to change. We need to break the cycle of debt. The best place to teach is in the classroom – I hope this textbook will help make that easier."
Michael Mercieca, CEO at Young Money comments:
"We're delighted to have worked with Martin Lewis on this pioneering project to produce these important educational materials which will help many students and teachers across the country. Financial education is a topic that still doesn't always get the recognition in the education system that it deserves, despite its fundamental importance for everyday life. It's vital to the personal wellbeing of individuals and to the country that we improve the education of young people in this area to give them the best possible chance of success in the future."
Julian Knight MP, Chair of the APPG on Financial Education for Young People comments:
"I'm delighted that we now have a practical resource for the classroom to help ensure financial education is more consistent in schools and that students leave the education system adequately prepared for their financial futures. A need for classroom resource was a key factor identified in the APPG's Report 'Financial Education in Schools: Two Years On – Job Done?' so the brand new textbook and teacher guide are an excellent outcome of the report.'
Nick Gibb MP, Minister for School Standards comments:
"Economic and financial education are an important part of a broad and balanced curriculum, and provide the essential knowledge that young people need to manage their finances and succeed in the modern world. Both the Department for Education and HM Treasury support high-quality resources for schools to help deliver this, and I would like to commend Martin Lewis and Young Money for making this new textbook available."