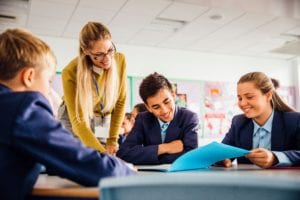 Dorset and South Hampshire students are set to benefit from J.P. Morgan's support to gain new employability skills and experience, as part of an innovative 2-year employability programme from Young Enterprise. 
The JPMorgan Chase Foundation has provided a grant to Young Enterprise, the UK's leading enterprise education charity, to support the delivery of a new innovative employability journey called 'DASH'. The Foundation's two-year grant will support the delivery of the programme in schools and colleges right across Dorset and the New Forest.  
As part of DASH over 1800 students will undertake a 12 hour employability masterclass with many then taking up the opportunity of a local workplace visit or experience. The programme will build their confidence, enhance their communication, team work, planning and leadership skills, and provide an insight into business and employment life, especially among 'in-demand' sectors such as STEM. The programme culminates each year with a 'key competencies' event where students will have the opportunity to 'match' their skills with the employability skills demanded by local employers.  
As a result of the programme students will be better prepared and make more informed decisions on their educational/career pathways, new relationships will be formed between schools and local employers, young people will have an increased awareness of STEM sector employment opportunities and apprenticeship offers promoted.  
J.P. Morgan has a Technology & Operations centre in Bournemouth with a strong history of community engagement with partners such as Dorset Young Enterprise. Over the past 10 years, the two organisations have collaborated on a number of community development and education-based initiatives in the Bournemouth and Poole area. 
Gary Ford, Managing Director, J.P. Morgan, Bournemouth said, "J.P. Morgan firmly believes that all members of our local communities should have a chance to take part in and benefit from the wider economy. As the way that people work and the types of jobs available are ever-changing, now more than ever it's crucial that young people, particularly those who may need more support, are able to make informed choices about their future career choices. We are proud to be supporting the DASH project and are keen to see the project have a positive impact on the lives of local young people." 
Michael Mercieca, Chief Executive Officer for Young Enterprise says "we are grateful to J.P. Morgan for this funding which will directly enable young people to develop essential employability skills and mindset, understand local employment opportunities and be inspired to improve their own prospects for sustainable employability in the 21st Century" 
Businesses, community organisations and individuals who would like to be part of this exciting project should contact Hannah Cook on 07918564958 or e-mail [email protected]