Bob Wilson was one of the first students to take part in Young Enterprise's Company Programme in the UK in 1964. Aged 15, he responded to his Headteacher's request for volunteers, recalling that: "I was not a very sporty kid, so I thought I would give this a go."
Bob's team called themselves 'Products Domestique' and prided themselves on selling cleaning products to parents of the participants, who came from several local schools.
Bob himself was from Gillingham Grammar School. "We ended up with 722 dusters at one stage but I do recall we made a profit at the end." Crucially, this experience enabled Bob, and his peers to mix with girls from other local schools. Coming from an all-boys school, this was clearly a formative experience for the young members of the Products Domestique team.
Building on his early enterprise experience, Bob pursued a career in business when he entered the workplace. "I left school at 17 to work at TSB in Gillingham, Kent. I was promoted to Branch Manager, at age 28, at that time being the 3rd youngest person to achieve this position in TSB. I acquired a reputation for being able to turn around difficult staff, people who were on the verge of leaving the business".
"When I look back on my experience with Young Enterprise, I realise I learned a lot about developing others. I enjoyed giving people responsibilities that would enable them to gain skills and develop confidence."
After leaving school, Bob chose to re-engage with YE, this time as a volunteer. He chaired the organisation's first ever bank, called 'Sovereign', which served as the bank for that year's mini-companies, investing their profits, lending to them for purchasing items to re-sell. He later became an Advisor to the next year's mini-companies, at the newly-opened Gravesend branch of Young Enterprise.
In 2003 Bob moved to the US to join his second wife, Marissa. He now helps with running her Vending Machines business from their Los Angeles home. In a quirk of fate, Bob retains a link with Young Enterprise, through the global, parent organisation to YE, Junior Achievement Worldwide.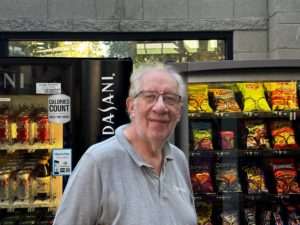 Pictured here in front of his Vending Machine, at Junior Achievement's branch in Forest Lawn, California, Bob reflects on how his career has brought him full circle.
"Being truly customer focused, seizing opportunities when they arise and learning from more senior colleagues, those are the core principles of my working life."
Asked what he would wish for the next generation as they contemplate their future careers, Bob responded: "I would want all young people to be eager to learn from their more experienced colleagues and to aim for promotion." Also, Bob quipped: "Avoid taking your banking exams on honeymoon. That was good for my career but bad for my first marriage!"