Partnership Impact on the young people we support
As a brand that is a household name globally, Colgate is likely to be a brand many of the young people in the UK are not only familiar with but potentially use every day. Through the partnership, the Colgate-Palmolive team can share the wide breadth of backgrounds, experiences and roles that go into making a brand successful. 
Partnership ambitions
As well as continuing to engage across multiple Young Enterprise programmes, Colgate-Palmolive's UK office will be opening its doors to invite Young Enterprise students to spend time observing our teams, taking part in hands-on tasks and networking with our colleagues. We hope this activity will help students develop commercial awareness, and gain career advice to help increase confidence. 
How is Young Enterprise supporting Colegate-Palmolive?
With the Colgate brand in more homes than any other, we are presented with great opportunities and new challenges as we work to integrate sustainability into all aspects of our business and create a positive social impact. Driving social impact is one of our key ambitions of our 2025 sustainability & social impact strategy. We particularly focus on three core actions: 
We inspire our people to make a difference

 

We help children, their families and communities thrive

 

We create a more inclusive world

 
Through supporting Young Enterprise Colgate-Palmolive is proud to be part of building a successful and sustainable future for all young people and society. 
Staff engagement
We have held sessions in the office to introduce the great work Young Enterprise does to our entire organisation, inviting all UK Colgate-Palmolive staff to volunteer at Young Enterprise sessions. Our senior leaders have been engaged, playing their part in judging roles for the Fiver Challenge, and at the regional Company programme finals. The core team including our HR team were proud to attend the Spitalfields market career fair to talk to the young people about potential careers at Colgate.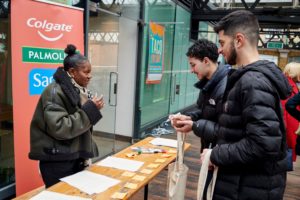 "At Colgate-Palmolive we are passionate about creating a healthier, more sustainable future for all. One way we achieve this is through our commitment to communities across the world. Through our partnership with Young Enterprise we believe that we can help create opportunities to change young people's futures across the UK."