Mina took part in Young Enterprise's Start-Up Programme at Loughborough College while undertaking a degree in Leadership and Management. Through the programme she launched a fledgling business with classmates and the support of Young Enterprise, tapping into a local campaign to get people moving.
"My classmate created BeUni Bikes and shortly afterwards I joined him. We made fully customiseable bikes. You could have your name on it and change the colours of it all," she remembers.
The team also looked at road safety and created customised helmets and were successful enough to launch a small shop in the Loughborough College Leisure Centre. "It was amazing," smiles Mina. "About half the size of a small Greggs, I'd say."
Mina credits her Young Enterprise experience with helping her to navigate the confusing job market while studying. Interested in both finance and marketing, she didn't know which way to turn. "They are two very different parts of business, numbers versus the more creative side and strategic marketing," she offers.
"I think that's why I was so confused… [and I thought] If I go down the wrong route, then what happens? You catastrophise at that age, don't you?"
Having that year-long exposure through Start-Up Programme enabled her to get hands-on, practical experience with balance sheets, profit and loss forecasts, marketing campaigns and adverts – which enabled insights and developed her understanding of these areas of business.
"At that age, where do you get that experience of looking at cash flow forecasts or marketing campaigns?" Mina asks. "It's something that you wouldn't normally get exposure to. But I did, because of Young Enterprise."
The support of their team's Business Advisor volunteer, mentoring the team, really helped Mina to get to grips with what all the numbers on a balance sheet actually mean. Breaking it down to make sense.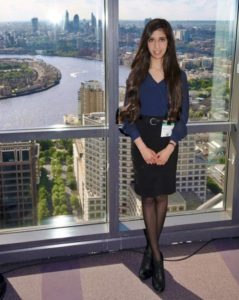 Mina still glows as she recalls the adrenaline rush of some of the unique experiences she participated in while running her business. Amongst these is travelling to London for the first time to present to a room full of people at the Start-Up Programme National Final in the skyscraper 1 Canada Square.
Finals are competition events that invite programme participants to compete locally, regionally, nationally, and even at the European level for the lucky few. They showcase their businesses and products, and we celebrate their achievements.
Mina explains that "Young Enterprise is so important because it creates a new way of thinking at a young age… schoolwork is about being instructed to do assignments but when running a business no-one tells you what to do. You have to change your way of thinking to make your business a success. This way of thinking is useful for the rest of your career, and you begin to think outside the box and on your own."
Entrepreneurial flare has always been present in Mina, she used to make her own greeting cards as a child, and she revisited this during the Covid-19 launching her own wedding stationery business for friend's whose weddings had to be postponed due to the pandemic.
The business has grown from strength to strength, now selling cards for all occasions as well as personalised prints. She smiles, "I thought, if I could do it as a kid, and with Young Enterprise, I can certainly do it now."
As well as her work at Teach First, Mina is also a Young Enterprise Trustee, generously donating her time in support of the charity. "Young Enterprise creates a safe environment for it to be okay to have an idea and to turn it into a business. If you had to do that on your own, it's way scarier and you probably wouldn't do it," she says. "It was important for me to become a Trustee and to support the Board in their mission to ensure this safe, creative and formative space exists for all young people."