Paul is passionate about unlocking young people's potential while addressing some of the challenges and pressures that young people face in our exam and academics-focused school curriculum. He explains that this is one of the reasons he co-founded Reach Next Generation, after a conversation with his daughter about the state of the world during the Covid-19 Government Lockdown.
"This conversation happened just as my daughter was approaching secondary school," Paul begins. "So, we decided to do a lockdown side hustle and try some podcasting. She was probably the youngest podcaster there is. The idea was to talk to successful women, like Sharon Davies, CEO of Young Enterprise and others from various sectors about their careers, journey, and most importantly, what tips they would give young women and girls."
The entrepreneurial spirit has always been evident in Paul. From his days selling Cadbury's Crème Eggs to schoolmates for 5p more than the price at the shop where he brought them, to petrol pump attendant, "In the days when you could fill up your car for a fiver!" he laughs.
With a father in the motor trade, one possibility was to follow in those footsteps. He already knew he wasn't interested in law or other careers. "I think subconsciously I always knew I wanted to work for myself though and run my own businesses."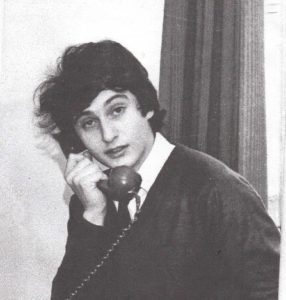 That's why, despite not being hugely academic, he admits, when Young Enterprise volunteers from Natwest came into his school to talk about the charity's programmes, he jumped at the chance to try his hand at business.
"No one else put their hand up to be the Managing Director, as I looked around, all hands were down and I wondered what I had gotten myself into," he reflects. But his consultative leadership approach enabled the team to flourish, and their X-shaped book stands flew off the shelves of local gift and design shops. He's still got one, all these years later, and it's still proving useful at home.
His team of 6 or 7 classmates even competed at the Young Enterprise Final competitions (which recognise all young people's achievements on the programme and crown a local, regional, and national Company of the Year). They placed second despite fierce competition.
"There was also a mentoring piece from Natwest volunteers," Paul remembers. "They encouraged us to run our business in a very structured way. So that everybody didn't do everything. Funnily enough, subliminally, you remember some of those moments. So, in the businesses I've run since, I've always been clear that everyone shouldn't do everything. Also, you must give everybody a moment to be special within the business."
These takeaways have supported Paul's trajectory, seeing him ascend. Alongside his businesses, he's taken up roles such as Chief of Staff at MOBO (the music awards) and managing political campaigns for Mayoral candidates. "Business builds people's self-esteem, and we need to find ways to give young people the confidence to be who they want to be and to do what they want to do," he adds.