"Young Enterprise does a very good job of giving people the nudge to try that new thing or to get you out of your comfort zone. That is so valuable for someone's development," smiles Joe, when we catch up about his enterprise journey with Young Enterprise.
Joe still remembers that feeling in the pit of his stomach before going to pitch his team's business to a crowd of 150 people at a Young Enterprise competition event.
"It was a really daunting experience… to date, one of the most nervous moments of my life so far, but I remember getting up there and doing the presentation with a couple of my colleagues and realising it was okay. I learnt that I'm able to do things that I sometimes feel I can't." he adds. The relief and pride in your ability in these moments cannot be underestimated.
It is heartening to hear about the path Joe's carved since, with his hard work resulting in a top tech job in Michigan, USA. He credits his Young Enterprise experience as a pivotal step in his journey.
Despite being very competent and interested in IT, economics, and business studies at school – Joe even ran his own small, successful IT company building websites – he explains that he felt 'directionless', with a gap in his soft skills. "That's at least my experience," he says. "It feels like those soft skills are applicable to almost any job or any business and if I look back on my education, I would say maybe there wasn't enough time spent on things like presentations and learning how to market yourself."
Enter Young Enterprise and a chance for young people to gain practical experience that is entirely different to regular textbook study.
"Straight away it piqued my interest as someone that was really fascinated with business," Joe tells us, he went on to secure the Managing Director position and his team identified portable ball shaped speakers (think Comic Relief-style red noses) as their product.
They shipped in speakers, in bulk quantities, and sold them at Young Enterprise Trade Fairs and online.
"For the initial fundraising to buy the speakers, we ran various raffles. My gosh, the amount of money we raised doing those raffles. You would have to sell 1,000 Audiballs each time to raise the same funds we raised from raffles!" He laughs.
Joe also cites the Young Enterprise-organised Trade Fairs where young people sell their products as an important learning curve. Being dropped in a safe environment, but one in which you have to connect with the public to promote, and hopefully sell, your product stimulates personal growth. Joe and his teammates also all learned skills and approaches from each other.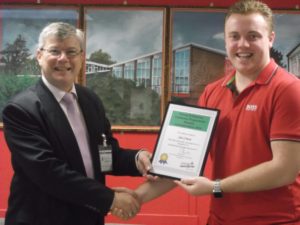 Joe went on to study at the University of Buckingham, completing a two-year expedited bachelor's degree in Business & Management. He worked hard and prioritised networking, a strategy which paid off.
"Towards the end of my degree, I met the Innovation Director of the company that I am now a 'Production Manager' at, SBD Automotive. We are a leading research, data, and consultancy firm that partners with almost all global car manufacturers and suppliers " he says.
"I am responsible for the production of around 40 different products with a global team reporting to me. It's a really exciting and dynamic role day-to-day, it's great to be able to make a difference to such an important industry."
When Joe reflects across his career, he can clearly discern these critical moments. Overcoming his nerves before his Young Enterprise pitch presentation enabled learning.
"That lesson has 100% guided my thinking and decision making since. I can think about a chain of decisions that I have made since I was 16, a lot of them were uncomfortable, but having the faith that this is the right thing to do… I believe that is the reason I got to where I am. I put a lot of that down to my Young Enterprise experience."